Recently, when I was in Atlanta, I was told I had to try these magical things called "Totchos." They are tater tots, with nacho cheese on top. Being someone who has never really liked either tater tots, nor nachos–and trust me, I've been labeled a heretic many a time for these opinions–I was far from certain that I would enjoy the Totchos.
So after checking into the hotel, here's us about to head out from our Midtown hotel to hit up the Nook.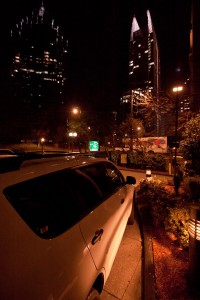 The Nook turned out to be a dark, dingy restaurant that specialized in burgers, totchos, and other American items, all with a southern twist. Later in my second trip there, I would  have their stuffed burger, which is an utter euphemism for an 8″-high burger with a medium-done 2/3 lb patty, stuffed with grits, shrimp, and sausage, along with a second grits patty on top, all topped by standard burger fillings.
The outdoor area of the Nook was supposed to be ski chalet-themed, but it was only partially decorated, so it looked a bit more like a confused mix of an attic, New Orleans chandeliers, ski trail maps, Bose Soundtowers, and football memorabilia. (And, thankfully, heat lamps).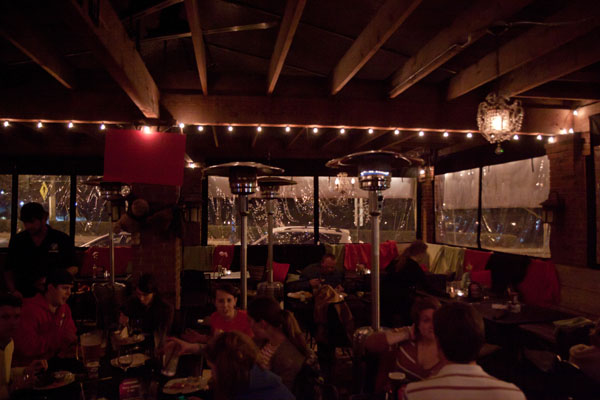 I ordered a plate of Nacho Totchos, which the menu described as "Grilled chicken, pico de gallo, sour cream, jalapeno and cheese sauce." There were other options too, like the Loaded PoTotchos, which was "Cheese sauce, sour cream, bacon bits, shredded cheese and scallions." And also the Redneck Totchos, which was "Mesquite smoked pork, our signature Coca-Cola barbecue sauce, jalapeno and cheese sauce."
Less than ten minutes later, the totchos were served. I was very glad I didn't get a second dish on top of the totchos. Describing it as merely tater tots and nacho cheese is misdescribing it. It had a rich taste, with tater tots that stayed crispy on the outside and fluffy on the inside. It's almost pure carbs, but definitely the best tater-tot based dish I have ever had. Especially if you wash it down with a Sierra Nevada Torpedo.